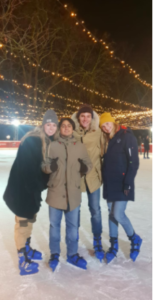 I remember one of the reasons for choosing my studies, Communication and Media at Erasmus University, was the opportunity to go on exchange as part of the program. The first year went by so quick and in the second year the application process already started. London was the first choice on my List and a few months later I was holding a badge with this destination on it. After a long summer break the time was there, time to go to London Goldsmiths University!
I was so nervous to go on exchange since I did not know other people going to London. When I first arrived in the Eurostar train I saw some familiar faces though, some students I knew! However, they were going to Dublin and Leeds. I arrived first in my flat in Loring Hall, the accommodation was staying. The same day I met some of the people I was going to live with these three next months and went for a beer with them. But everything was still pretty awkward and I was terrified of not meeting people like me. 
The first week must have been the week that I went out of my comfort zone the most I did my entire life. I was talking to so many people I did not know and meeting new flat mates every day. After this week, I never regretted going on exchange! I made new friends in my flat, as well as meeting two girls who were also from my studies but I did not know before. We all became one big group of friends, in which at least one was always up for doing something. After my exchange, I can now truly say I have friends all over the world! From Philadelphia to Bologna and Siberia to Vietnam.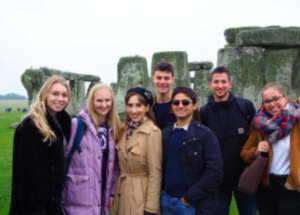 During the weeks, we made some trips with the group. Such as going to Stonehenge, Brighton and Oxford. In Oxford, we arrived with no clue what to do and ended up doing a free walking tour with somewhat thirty other people! After this we had a bite on a stunning rooftop terrace, tipped during the tour, with a view over the whole city.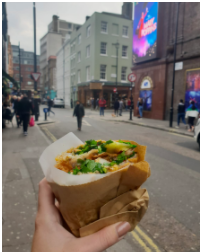 Of course, we also spent a lot of time exploring London itself. It is such a big city; three months is not even enough to see everything. But we made a good effort exploring as much as possible. Some of the best things to do is visiting markets in London. From Borough market, to Camden and the Old Spitalfields market we have seen all of them. All of these markets bring together so many different cultures, in their foods as well as visitors. This was so much fun as all of us recognized different things from our countries. During these visits, we ended up tasting foods from all of the countries we came from.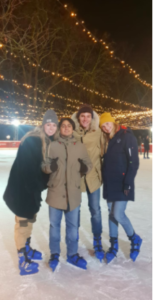 Slowly, winter was coming and everything in London started to become lit by Christmas lights. This is the time we discovered Winter Wonderland, a big fair in Hyde park. This is where some of my most beautiful memories were made. Drinking mulled wine, hot chocolate, going into the Ferris wheel together… Also, some of my most fearful moments as we tried some of the attractions I was really scared of hahaha. But in the end, we did it and we had so much fun together at this place. I even learned some the people how to ice skate!
During my classes, I also had to go a bit out of my comfort zone. This as I had classes with only English people or, for example, a class in which we had to make a journalistic video from scratch. But I learned a lot, especially about English culture and how English people have different opinions on Brexit, as this was a hot topic during my exchange. 
During my exchange, I began to really feel at home. Following the classes with English natives became normal. I really fell in love with London and the life I built there. Some of my greatest memories have been just in the kitchen of my flat. We built an 'Instagram wall' of polaroid photos taken on our many nights we just enjoyed being together in the kitchen. 
Looking back on this whole experience, I am really going to miss the life built in London. I learned a lot about myself and what I want in the future. Exchange has taught me that I want to travel and discover more of the world and its many different cultures. During my exchange, I have had to go out of my comfort zone so many times that I am now comfortable with doing that… if that makes sense. It also made me more spontaneous in meeting people.
However, not only has exchange taught me more about myself and other cities. Also, I really became aware of how much I appreciate my life in the Netherlands. This as I did miss my friends, family and just the country a lot, despite of all the fun I had. I think this feeling of appreciation is really a good thing though as it will make me more aware of actually enjoying life back in the Netherlands.  
There is only one thing I can say: all the clichés about exchange are totally true! I really want to thank ATP for making this experience possible for me. This experience really let me grow as a person and made me eager for more travel experiences! 
Charlotte 
London
20 September-14 December 2019
Activity
For the event, I decided to try enthusing Dutch students to go abroad for an exchange. Since I knew some of my other friends have been on exchange as well I wanted to combine this with the event. I organised an evening at my home for some students and some of my friends who just came back from exchange, all from different places.
I created name tags, with the places the people went to for exchange. This made it possible for everyone to see where someone went or if they did not go on exchange (yet). The people were from different universities and now had the opportunity to meet each other and talk to different people with different experiences. I also asked the people who went on exchange to bring a photo with them so it was easier to start talking to each other. 
It was fun to see how everyone had different experiences and loved their exchange (city) for different reasons. Some of the people are now seriously considering an exchange or internship abroad and it was a very fun night!