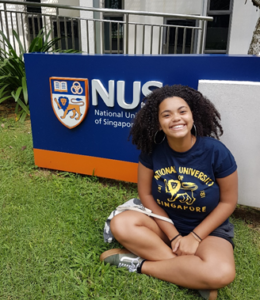 Exchange, exchange, exchange — A much-awaited, five months in a faraway destination that have turned out to be a wonderful experience which I believe will be ever-impactful in my years to come.
Ever since I started my Communication and Media study at Erasmus University Rotterdam, I knew that I wanted to study abroad, preferably as far away as possible. Having grown up in both Europe and South America for large periods of my life, I was ready and eager to embark again on a new adventure, new challenges, and a new continent. And on the 29th of July 2018 this became a reality — I was headed for Singapore! (or colloquially known as 'The Little Red Dot' for its small size and for the way it is often depicted on a map haha)
Once I arrived, I was happy to find that I was not alone. Quite the contrary, there were over a thousand exchange students from many different countries who were just as passionate about going on exchange. Seeing that we were all in the same boat, it was easy to bond and form close friendships with people who I can now say will be my friends for life.
In Singapore, I attended the National University of Singapore which in and of itself was a big highlight of my exchange. The NUS campus was massive and all-encompassing and presented an exciting change to the relatively small campus of my home university back in Rotterdam. My housing was arranged on the university campus and what a campus this was! It had a swimming pool, climbing wall, cheerleading team, and all the sports you can imagine, whether it was the very fascinating dragon-boating or simply playing Frisbee on the campus lawn.
When not hanging out with friends, working on assignments, or indulging in the many South East Asian cuisines from one of the many food stalls, I would venture off the campus.
I'd hop onto the efficient MRT system (never having to wait longer than 3 minutes for a metro!) headed towards Singapore's city center with an international group of newfound friends who were just as eager as I was to explore all that the island has to offer.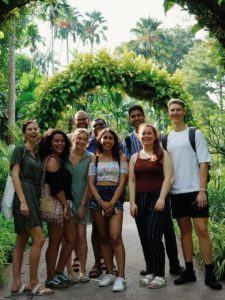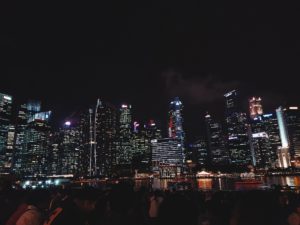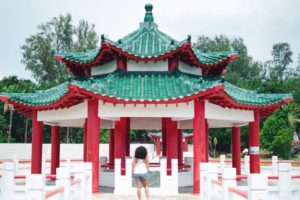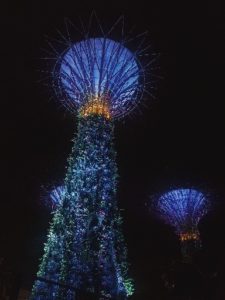 Located near the Bay, you find all the elements for which Singapore's skyline is known: the Marina Bay Sands hotel with its three iconic pillars and massive infinity pool; the Singapore Flyer ferris wheel from which you can even spot Malaysia!; and, the Gardens by the Bay with its colorful and futuristic Supertrees. I still remember my first day, as I walked around this impressive city with its many skyscrapers, a wonderfully overwhelming feeling fell over me, as I was in complete awe of the economic powerhouse of a city that is Singapore.
While still impressive, I gladly learned that Singapore is much more than the luxury shopping malls and fancy nightlife — a true melting pot of cultures. Heading a bit further out, you can find the different cultural districts of the three main ethnic groups of Singapore's population: Little India for the Indian, Chinatown for Chinese, and Bugis for Malay heritage.
Here, a couple of friends and I would encounter markets bearing all sorts of exciting South East Asian fruits and vegetables. I don't think I will ever forget what it was like to smell Durian for the first time (let alone the taste!). Next to trying the smelliest fruit in the world, we would also take pleasure in trying dragonfruit, mangosteens, and rambutans — fruits you may spot at an exotic stall in the Markthal, only here they were one third of the price!
Beyond using this opportunity to sightsee and get to know Asia, I of course came to Singapore to develop myself academically as well. Studying at NUS was as pleasant as I had hoped. Of course, there were the occasional differences in handling practical matters or differences in doing group work, but in my opinion this only enriched the experience and forces you out of your usual way of doing things.
Academically I pushed myself out of my comfort zone a bit by taking some course subjects outside of my usual communication and media courses. One of these was a documentary film making class that allowed me to explore social spaces in Singapore's culture. Working together with a fellow Singaporean classmate, we decided to focus our project on Haw Par Villa which is known for being a mysterious, somewhat bizar, and slightly abandoned (theme) park full of Chinese mythological statues and creatures. Haw Par Villa remains a beloved and revered heritage site in Singapore, and through making our documentary I got to know more about the values that underpin Asian societies, and how my classmate saw these as well. Combining my Western and foreign perspective with her Asian and local perspective made our project a success and we still remain good friends today.
Between going to class, planning trips to other South East Asian countries, and having dinner with friends on campus every evening, the five months passed by very quickly.
Slowly but surely I had begun to feel at home in a culture than was only a few months ago completely unknown to me. I couldn't help but notice that I had already begun to adopt some of the local Singlish slang, adding words like 'can' (to mean yes) and 'Lah!' (used for emphasis at the end of sentence) to my vocabulary.
Looking back, this exchange has furthered my spontaneity and adaptability skills. I think personally that I grew in confidence especially when it comes to making my own decisions. Somehow it was a bit of 'relying on my own instinct' knowing that I couldn't really ask my family or friends back home, because they never faced challenges of living in Asia before. Going to an entirely new place where none of your peers have gone before became freeing. Perhaps the most valuable lesson exchange taught me was to embrace the unknown and to let it excite me.
This coming semester a Singaporean fellow classmate from NUS is coming to do her exchange at Erasmus University and I can't wait to show her around and make her fall as much in love with the Netherlands as I have fallen for the beautiful Singapore.
I know now for certain that that is the greatest thing about exchange: it fosters an interconnectivity and appreciation among different cultures, and simultaneously brings us closer to ourselves and others.
I would like to thank The ATP fund not only for providing me with the financial aid to realize this dream of mine but also for inspiring and encouraging many others to extend their horizons with the goal of creating a broader, enriched view of the world.
Many thanks!
And to the future ATP-exchangers reading this, have the best time on exchange! 😉
Alysa